Hello SLP Blog 
Sadly, this is the last post I'll be writing for SLP Session 1, but this is truly a "don't cry because it's over, smile because it happened" moment. Every week I've looked forward to getting up and seeing all y'all's smiling faces bright and early. I will remember you for a very long time, and it's been a pleasure learning and growing with all of you.  
Now that I got all the sappy stuff out of the way – onto the recap. 
We kicked our morning off with breakfast sandwiches from La Imperial Bakery and a City Commission pitch activity led by Katie Decker. The assignment was to come up with the most important elements of Lakeland, and then brainstorm a project or program that you would pitch to the City Commission. Once the project was dreamt up, the groups had to answer questions to flush out the details. They answered questions like "who would be opposed," "who would this benefit," and "how would it be funded?" Some projects tackled healthcare diversity and affordability. Others answered the question "what if there was downtown housing with a rooftop bar, outdoor rock-climbing wall, and indoor pickleball courts?" Spoiler, the answer is that it would be pretty awesome. Silliness aside, the activity forced the participants to zero in on what's important to them and made them realize that there are a lot of important questions you have to answer before a dream becomes a reality.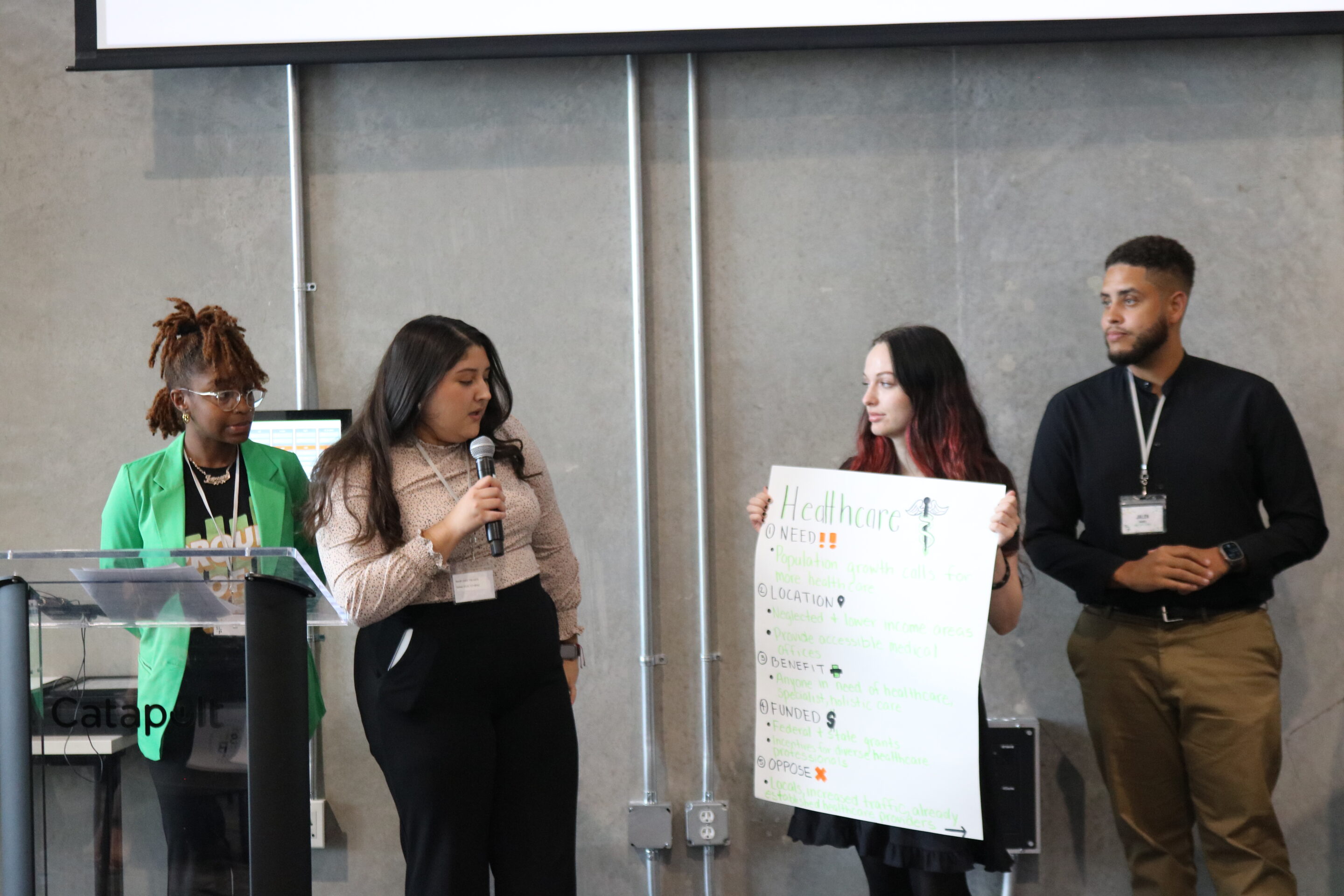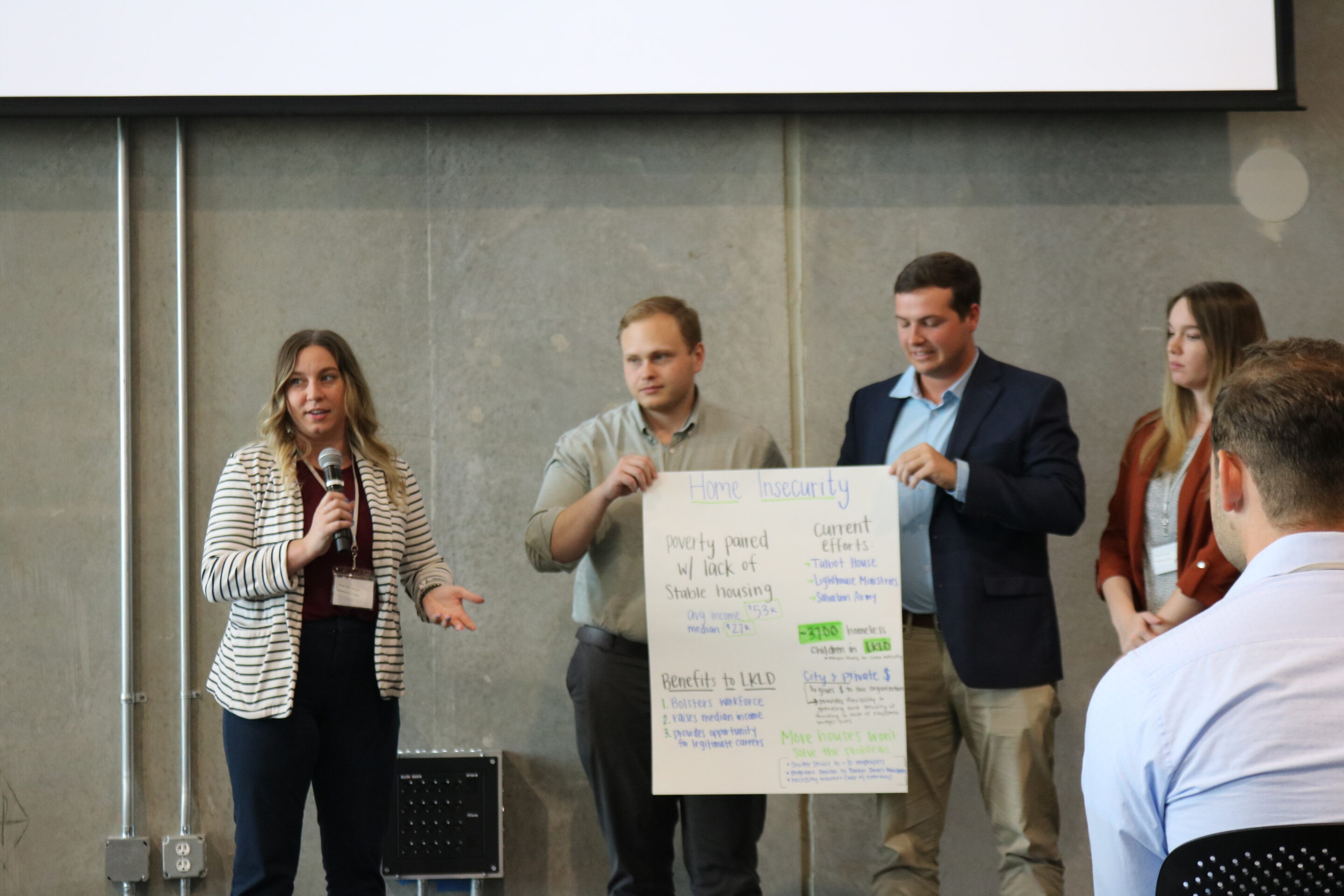 After our early morning brainstorm session, the participants piled into a tour bus à la middle school field trip and made their way to Southern Glazer's Wine and Spirits. Before we even got to the warehouse, we got a firsthand look at some of the infrastructure that makes Lakeland's industrial sector possible when we were stopped for 15 minutes at a train crossing. Thankfully, this put the tour only slightly behind schedule. Once we arrived at the warehouse, we heard about the process of receiving trucks full of alcohol, labeling them for their final locations, and then shipping them out. Sounds simple enough right? Wrong. I was amazed by everything that went into the process. Whether it's the hard work and precision required by the night shift, or the innovation and automation on display with their conveyor and shelving system, every aspect of the Southern Glazer's 1,090,000 square feet is a logistics masterclass. I never knew warehousing could be so interesting.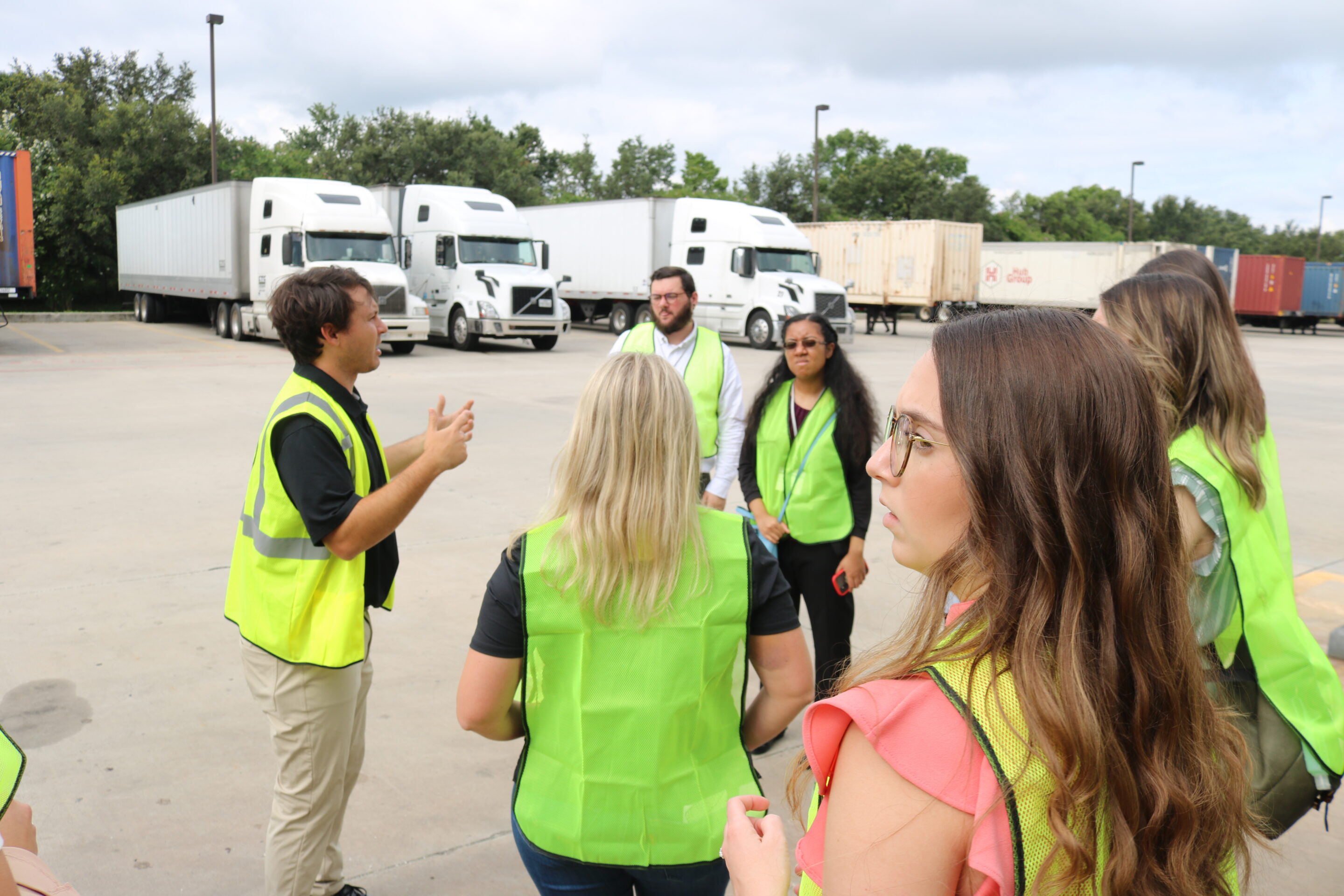 From Southern Glazer's we got back on the bus and drove to Lakeland Linder International Airport (LAL) where we heard from Adam Lunn, the Assistant Airport Director. He told us that LAL impacts the Lakeland Economy by $1.5 billion, and exactly how that number comes to be. Most of us knew that Amazon is a big contributor to the airport's operations, but we didn't realize that they only account for 7% of daily operations. There are flight schools, fuel farms, mechanic shops, a customs center and private hangers. All of these businesses contribute to Lakeland's economy. Lunn also spoke to us a bit about how LAL could compete for commercial travel airline opportunities, and what that might look like for the airport, the city, and Polk County as a whole. The admin side of running the airport was fascinating. I didn't realize how many revenue streams and projects the airport juggled every day, and just what sort of future outlook and growth they have in store.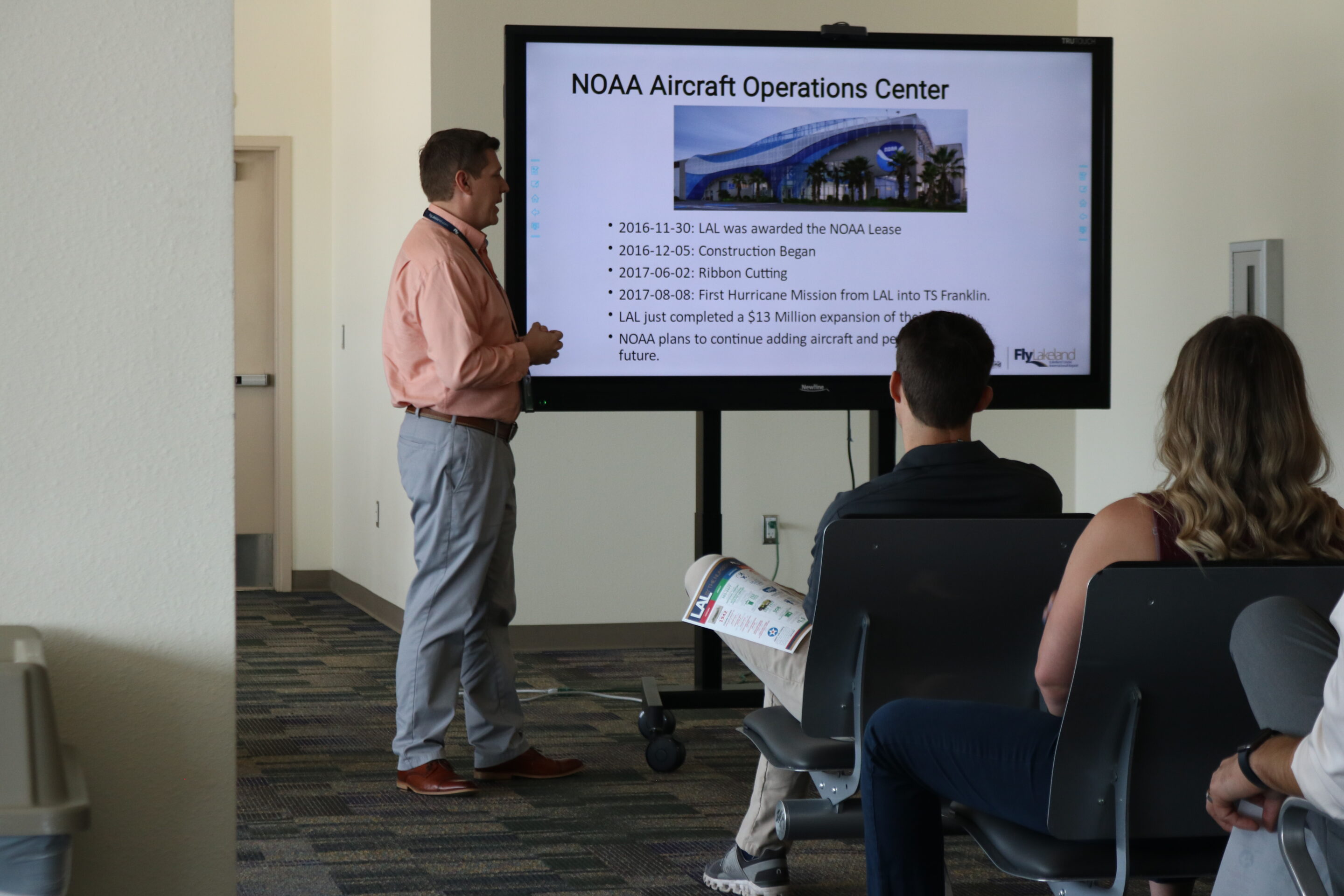 After our look at the admin side of things, Airport Operations Coordinator Cody Orlebeke gave us a guided bus tour of the airport. We learned about some of the procedures they have in place for managing wildlife, flooding, and any other weather conditions that might damage lights and runways. There's so much that goes into the day-to-day operations of even a "small" international airport like Lakeland Linder. 
Once our tour was over it was time to make our way back to Catapult for our final leadership talk of SLP. We heard from Nyrka Riskin, a personal branding and career coach focusing on producing effective leaders. Nyrka emphasized self-advocacy and confidence in the workplace, as well as personal branding consistency. To start developing that, she led the participants through engaging exercises focused on pinpointing exactly how they wanted to be perceived by their peers and supervisors. Then, through group discussions, the participants compared how they wanted to be viewed with how others actually saw them. For some, this was confirmation that their "personal brand" is consistent with their beliefs about themselves. For others, it was a wakeup call.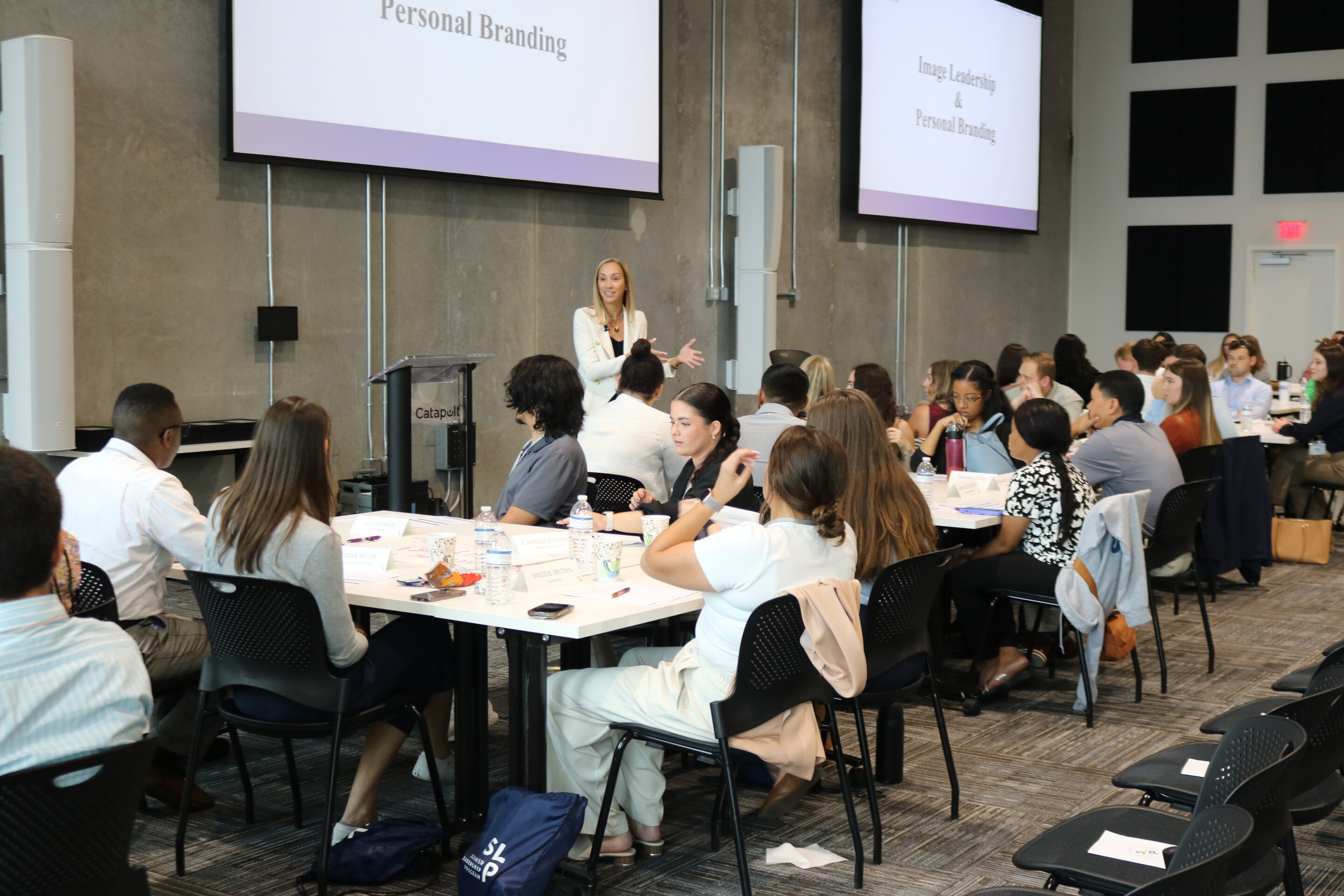 After Nyrka's personal branding crash course, it was finally time for the Summer Leadership Program graduation ceremony. The participant's supervisors filed in through the door, and after a brief period of mixing and mingling Sarah started her presentation. She called everyone's names, the participants took a group photo, and just like that it was over.  
Five weeks of leadership speakers, tours of Lakeland staples, group activities, and social events flew by. It was a pleasure to be with you documenting the whole thing along the way.  
Signing off,  
James  
SLP Intern