Catapult was started in late 2013 as an 501c3 educational entrepreneur center in the basement of the Bank of America Building in downtown Lakeland.  Due to its initial success and the obvious need to move beyond its initial experimental stage, local private donors through the Give Well Community Foundation have given and pledged over $17 million to grow and expand its facilities and programs.  This extremely generous gift is open and available to anyone and everyone in our community.
First Meetings
In September 2015, Catapult put Lakeland's Cash Feed and Vacuum Cleaner buildings under contract with the intent to move our 501c3 non-profit entrepreneur center, Catapult, to Lake Mirror.
Less than a week later, Catapult representatives met with Lakeland's Mayor, city manager, city department heads, representatives from the Lakeland Downtown Development Authority, Downtown Lakeland Partnership, Community Redevelopment Agency, Historic Lakeland and Lakeland Historic Preservation Board.
In multiple meetings, Catapult shared our vision for restoring the Cash Feed building, an abandoned warehouse on Lake Mirror, into a newly renovated ($10 million) entrepreneur hub with co-working, offices, commercial kitchen and maker space (Read More).  Restoring this building was something no one else in our community was willing to tackle for many reasons, from prohibitive cost to getting Lakeland's Historic Preservation Board approval (future blog).
Typical development issues were discussed from zoning to utility extensions. The largest issues for Catapult were unknown costs related to renovating a large warehouse in disrepair and where to find parking.
Parking Problem
Parking was a critical issue that needed to be addressed for the project to be viable.  Catapult currently houses 130 entrepreneurs in a 10,000-square foot facility.  We anticipate that number to grow significantly in the new 38,000 square-foot Cash Feed Building, which currently has 18 parking spaces.  The Cash Feed building has a significant parking problem.
We discussed and pursued many potential solutions for parking with city leaders.  First, we looked at the former Fire Station site (Lot M) that the city owns across the street from the Cash Feed Building.  Lot M has 56 parking spaces and the city had leased 83 of those, in other words, if everyone showed up that needed a space the city would be short 27 spaces.  That was a dead-end.
Moving a little further west, we asked about the Main Street Garage but it too was oversubscribed.  There were 404 signed leases in the 311 spaces for lease, meaning the garage was 30% overbooked.  That was a dead-end.
Another idea was building a parking garage on the surface lot behind the Police Station, but this was over 2 years ago and prior to the completion of two City of Lakeland's parking study's.  At the end of the day, the city just wasn't ready to build a parking garage.  This was a dead-end.
We were beginning to understand why no one had purchased or renovated the building.  We also were beginning to understand why investors were not developing new product downtown. Lakeland has a significant parking problem for 8-to-5 p.m. employers.  The City of Lakeland hasn't built any structured parking in over 40 years (See Downtown Parking Blog).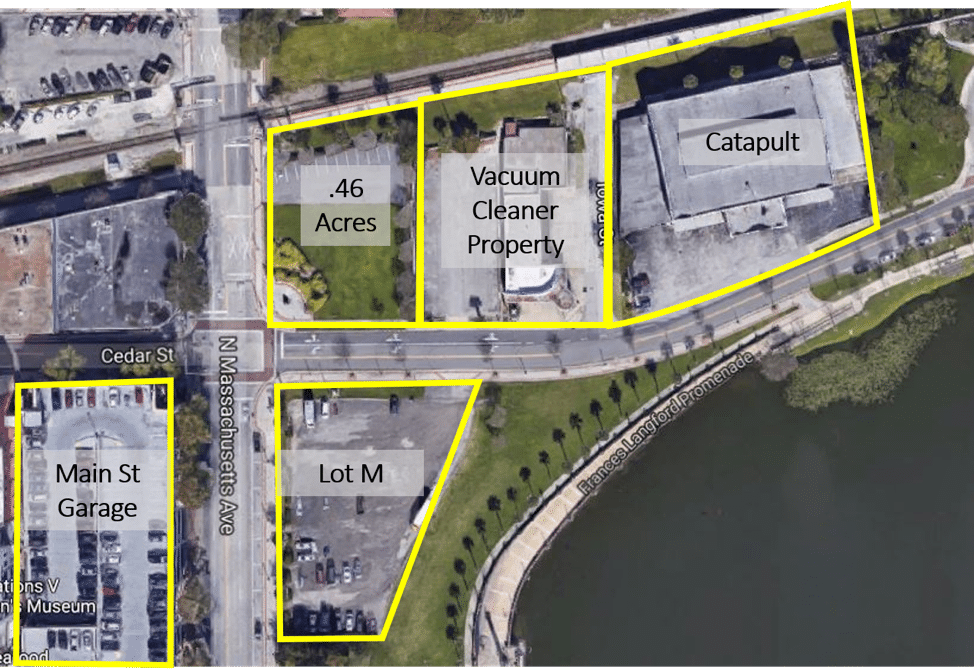 A Solution
Building a surface lot directly west of the building became the only viable parking option for anyone interested in redeveloping the Cash Feed Building.  Two parcels adjacent to the Cash Feed building were owned by The City of Lakeland (.46 acre green space on Massachusetts Avenue) and a private family (vacuum cleaner building).  Engineers told us we would most likely get 100 parking spaces on the combined properties.
Catapult immediately put the vacuum cleaner property under contract with the intent of demolishing the building and using the property for parking.  Although the Cash Feed Building was in the Munn Park Historic District, the vacuum cleaner building was not. It was not consistent with the historic district's period of significance and had been significantly altered.  This blog is about parking, and we plan to post a future blog on the vacuum cleaner property.
City & Catapult officials agreed that in addition to the vacuum cleaner property we would need the vacated Iowa Avenue and .46 acres on Massachusetts Avenue owned by the City of Lakeland.  We don't believe that a parking lot is the highest and best use of these three parcels.  We all want something bigger, better, denser and more exciting than a parking lot and we fully believe that will happen someday.
City or Catapult?
It wasn't important to us that we owned the land, but rather that we had the available parking for Catapult members and staff. Therefore, we offered to give the city of Lakeland the vacuum cleaner property that we were purchasing for $800,000.  In exchange, the city could build a parking lot and lease spaces to Catapult. This would not only give the city continued control of the .46 acres, but the vacuum cleaner property as well, leaving the city with a premier future development site.
City Leaders preferred giving the .46 acres, estimated value at $174,774 to Catapult and instead asked Catapult to build the parking lot, which was eventually approved by the city commission.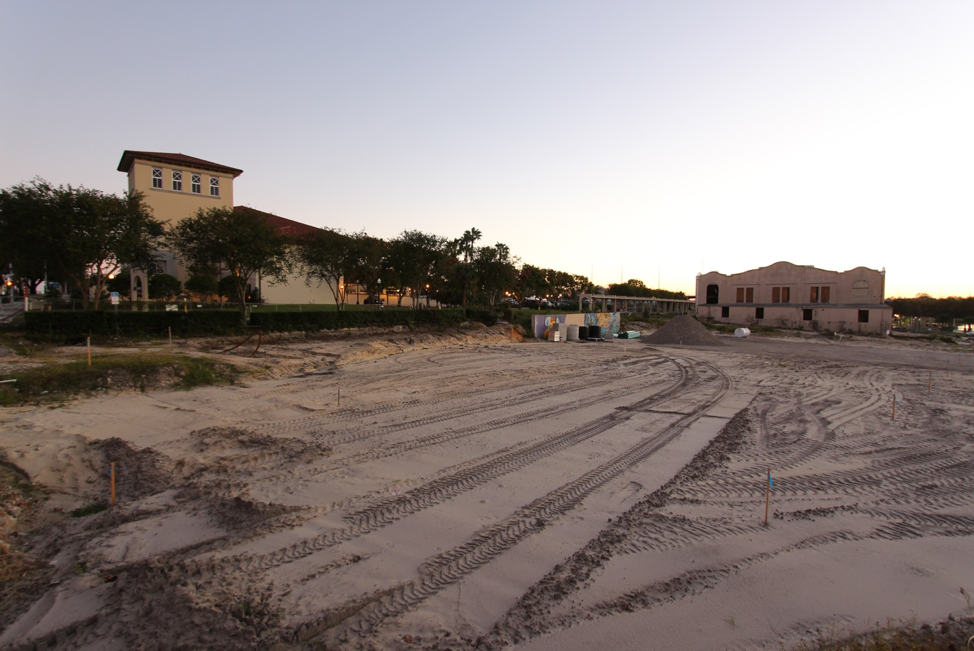 Property Conveyance
Ten months after our first meeting with the City, at the recommendation of the city manager, we met with commissioners one on one about our plans.  All commissioners indicated that they would approve the proposed agreement between the City and Catapult (Read More).  City leaders were comfortable enough with the proposed agreement that they told us we didn't even need to attend the upcoming City Commission meeting Monday, July 5th, 2016 when the agreement would be approved.
At the eleventh hour (Friday before the Monday vote), we received a phone call from the city attorney telling us there might be a problem with the proposed agreement.  He explained that the City of Lakeland's Community Development Director was opposed to giving Catapult the .46-acre piece and we "better come prepared to speak at the City Commission Meeting on Monday."
City Commission Meeting
We prepared a Power Point over the weekend which we presented to the City Commission on Monday morning.  It was detailed, direct and defensive on my part.  For 10 months, we had been led to believe by everyone involved, that the .46 acre conveyance was no problem.
The good news was that the commission voted 6-1 in favor of conveying the property to Catapult.  The bad news was that I had called out my friend, the community development director, in a public meeting which I had no intention of doing.  I am sorry for that and met with him subsequently to apologize.
In addition to this, my detailed, direct and defensive tone led some commissioners, the print media, and social media publishers to feel like, or believe, that it was Catapult's intent to threaten people to get its way.
However, when the city attorney called us at the last minute and told us that something we had worked on for the better part of a year, that had gone through the city's process, and everyone had agreed to was falling apart, we felt threatened.  No one should have felt threatened, and yet, due to the nature of the process, everyone felt threatened.
Time for a Change
I believe the old ways of doing things need to change.  It's one of the reasons we are writing this blog and why we are engaging on social media.  It's time for leaders like myself and organizations like Catapult and the LEDC to change the way we do business.
It's time for us to be inclusive, and it's time for us to stop meeting behind closed doors on projects like Catapult.  That process might still be appropriate for a company that needs confidentiality regarding their competitors, employees, etc.  But there was no reason not to have a public conversation about the Catapult parking situation.  We actually had more to lose when we brought it to the commission last minute with arguably the most influential city employee against our position.
Prior to investing their hard-earned dollars in a project in Lakeland, potential investors need to know that the City and its planning and building department, the Historic Preservation Board, and Lakeland citizens are supportive.
Final Thoughts
On one hand this blog was written to give you an idea of what happened behind the scenes regarding the Catapult parking/land agreement.  I hope it helps explain why we were surprised, why we were defensive, and why we felt threatened, right or wrong.
On the other hand, this blog is about leadership, it's about change, it's about creating a community process, it's about opening the door and letting the sunshine in.  What do you think?  We are ready to change the process, are you?